Educational extras, supplemental sales tools.
Bite Tech is providing a number of documents for you to learn more about Performance Mouthwear and the research and science behind ArmourBite® Technology. Additional marketing support materials are available through the Bite Tech Provider Service Center.

Important
Please do NOT host any of these documents on your dental website. These files will be updated frequently and you should always link to this page for the most up-to-date documents.
Frequently Asked Questions (PDF 242KB)
Fabrication Requirements (PDF 94KB)
Prescription Form (PDF 626KB)
Care Instructions (PDF 52KB)
Warranty & Replacement (PDF 52KB)
Colors – Custom Products (PDF 721KB)
Pricing – Boil and Bite Products (PDF 573KB)
For more information, please call the Provider Service Center toll-free at 1-877-248-3832.
Every UA Performance Mouthwear product comes with a protective case and user booklet.
Webinar Video
Learn about UA Performance Mouthwear™ in 15 minutes and get your CE Credits.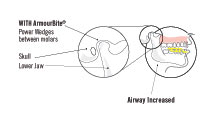 ArmourBite® explained.
Skeptical? See the research and science behind our patented technology.
New colors.
UA Performance Mouthwear™ products are now available in a range of color combinations.
Order your launch kit.
Become an authorized UA Performance Mouthwear™ provider today.
1-877-248-3832