Simple ways to spread the word.
Get people asking for Under Armour Performance Mouthwear™ when they walk in your door. Use the tips listed below to get the most out of your Launch Kit materials. We've even offered a few other pointers that will help you make an impression on your patients, and an impact on your bottom line.
Take the Provider Webinar with your staff.
It is tremendously informative, easy and only takes less than 15 minutes. It is a great way to get them involved and comfortable speaking about the product.
Sign up now >
It's not just for athletes.
Make sure the dental staff is aware that this product is not only for athletes. It can be worn for a wide variety of people, from the casual exerciser to the professional athlete.
Use the Free UAPM coupon!
It is incredibly helpful to experience the benefits of UAPM first-hand, which is why one-free coupon is included in the launch kit. Experience the benefits first hand.
Keep the Flip Chart on the reception desk.
Patients can flip through the info as they check in and out of the office. The office administrator can also reference the chart when potential patients call in with questions about UAPM.
Use the UAPM brochures.
Give the brochures out to any patient you know who lives an active fitness-oriented lifestyle. And certainly hand the brochure to your serious athlete-patients.
Launch Kit
The authorized provider Launch Kit includes everything you need to get started offering UA Performance Mouthwear™ to your patients.
Flip chart
Place the educational flip chart on your reception desk or in your waiting area to generate interest in UA Performance Mouthwear.
Free product coupon
Redeem your free product coupon and experience the benefits of UAPM first-hand.
Webinar Video
Learn about UA Performance Mouthwear™ in 15 minutes and get your CE Credits.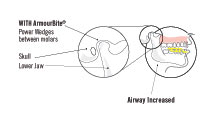 ArmourBite® explained.
Skeptical? See the research and science behind our patented technology.
New colors.
UA Performance Mouthwear™ products are now available in a range of color combinations.
Now available.
Call our service center today to learn more about the introductory kit for Authorized Providers.
1-877-248-3832