Bring performance to your practice and patients.
Imagine what the most coveted name in athletics can do for your practice's performance. Activate your Launch Kit and become an Under Armour Performance Mouthwear™ provider today. It's easy!

Why should I become an Authorized Provider?
The Under Armour brand is the hottest athletic brand today.
Your practice is automatically listed as an authorized provider on www.underarmour.com
UAPM brings new patients to your practice
It takes very little chair time and is beneficial for the majority of your patients
Products are backed by several peer-reviewed research studies.
How do I become an Authorized Provider?
1) Contact us at 1-877-248-3832.
2) Purchase a launch kit.
3) Use the marketing collateral to promote your practice.
4) For more information, please sign up for the webinar.
Kit includes:
Product display samples (2)
Consumer brochures (50-pack)
Authorized Provider certificate
Prescription forms
Instructions & Guidelines
Authorized Provider sticker
Product coupon
Flip chart
Shipping boxes
Webinar Video
Learn about UA Performance Mouthwear™ in 15 minutes and get your CE Credits.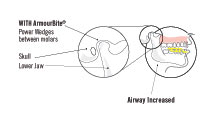 ArmourBite® explained.
Skeptical? See the research and science behind our patented technology.
New colors.
UA Performance Mouthwear™ products are now available in a range of color combinations.
Stay Informed.
Subscribe to our email list and receive the Authorized Provider eNewsletter and other updates.
Sign up below.