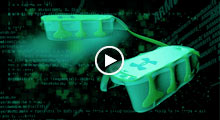 What is ArmourBite?
Unlock the power of the jaw so you can unleash your full potential as an athlete.
ArmourBite Locator.
Enter your location and find authorized ArmourBite® dentists near you.
Bodybuilding.
Jay Cutler, pro bodybuilder and 4-time Mr. Olympia, recommends ArmourBite®.
Limited edition.
Get a limited edition mouthguard in your team colors - available only while supplies last!
Buy now >